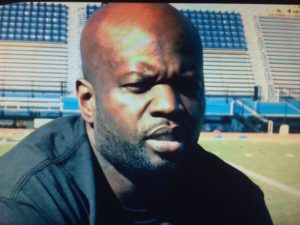 Charles J. Washington Jr.is a former highly competitive athlete at the high school, college and at the professional level, he is a conference speaker, entrepreneur, pastor of Regeneration Temple in Raleigh NC, and author of the book God is Bigger than a Game. Charles' passion is the message that God has a plan for you and Charles applies this to those who develop in a life filled with athletic endeavors and who need to pivot into a life of God's greater purposes.
Sheila's Shofar – Today's Call to Action – Tip of the Day
Conversation with Charles J Washington Jr.
        Key Points Discussed
How strongholds that athletics and other life games prevent you for knowing and following God's plan for your life.
What to do about these dangerous strongholds.
How to leave everything you know in order to trust God.
Resources Mentioned   (Click title links to see on Amazon)
God is Bigger than a Game!  by Charles J. Washington Jr.
Charles Recommends Books
Leadership Excellence: The Seven Sides of Leadership for the 21st Century by  Pat Williams
   


Other Related Episodes You Might Like

Leave a Message for Paul or Ask Paul a Question
http://godzoneshow.com/contact/
Connect with me on FACEBOOK
 Help by Rating and Reviewing The God Zone Show –