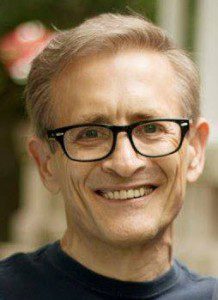 Paul guest is Guthrie Chamberlain, a podcaster, speaker, entrepreneur, mentor, business consultant, and market place Christian leader.  He is the host of the Wisdom-Trek podcast. They discuss your legacy and you developing a daily blueprint for successful living.
Guthrie's passion is to help us make an impact and create a living legacy.
Through his work with his daily podcast …Wisdom-Trek and his company…Venture Consulting Group, Guthrie and his wife Paula lead people on journeys of success in business and inspired living in Christ.
Sheila's Shofar – Today's Call-to-Action – Tip of the Day  
Live with God's Power
Today – Live with God's Power – check it out – my call to action tip for the day.
Surprised by the Power of the Spirit: Discovering How God Speaks & Heals Today  by Jack Deere
Conversation with Guthrie Chamberlain
Amazing Snippets from Guthrie:
Meditate on these Guest Snippets to see the useful wisdom that might come from God's voice and resonate with your heart a d be implemented today on your journey.
Being successful in life is being successful in all areas of life and I break that down into 7 areas.
Most people don't take the time to think about their purpose in life.
Stay focused on what's most important in life and not about obtaining more things but in obtaining more values within life.
Key Points Discussed:
Leaving a legacy
The 7 Important areas in life
Advice for those starting out in business
Advice for those growing a business
The Proverbs Challenge
Your Life Plan Blueprint http://wisdom-trek.com/resources/
Guthrie's Take-Away Wisdom that leads to action today:
Take the Proverbs Challenge: Start daily reading of one chapter in the 31 chapter book of Proverbs.  Read the chapter that corresponds to the day of the month.  During months with less than 31 days, double up at the end of the month.
Romans 12:2 tells you, Do not conform to the pattern of this world, but be transformed by the renewing of your mind. Then you will be able to test and approve what God's will is – his good, pleasing and perfect will.  The Proverbs is the Bible's "book of wisdom" that can help you do this – renew your mind.
 Resources Mentioned
Works by Zig Zigler
e.g., Better than Good: Creating a Life the You Can't Wait to Live
Guthrie Recommends Books
Essentialism: The Disciplined Pursuit of Less by Greg McKeown
Connect with Guthrie
Email: guthrie@wisdom-trek.com
Website –  wisdom-trek.com
Other Related Episodes You Might Like

Leave a Message for Paul or Ask Paul a Question
http://godzoneshow.com/contact/

Help by Rating and Reviewing The God Zone Show on iTunes

Link to GSZ on Stitcher for Android

   http://www.stitcher.com/s?fid=88422&refid=stpr
Leave a Message for Paul or Ask Paul a Question