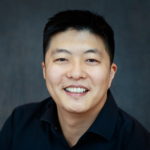 Mike Kim is a blogger, podcaster, former worship leader musician and artist; copywriter; marketing, communications, and leadership coach; and conference speaker.
Mike hosts the value packed, number one rated in its category Brand You podcast.   Paul & Mike discuss Mike's pivot story as Mike reveals great wisdom, tips, and resources for making life transitions.  Visit GodZoneShow.com for show notes and to ask a question or leave a comment.
Mike's passion and signature theme is to help you live your message, love your work, and leave your mark on the world.
Mike trains us to make life transition or Pivots as he calls them, and his own personal life Pivot exemplifies a journey that has resulted in the creation of his Pivot course.
Conversation with Mike Kim
Amazing Snippets from Mike:
Meditate on these Guest Snippets to see the useful wisdom that might come from God's voice and resonate with your heart and be implemented today on your journey.
You can fast-track a lot of things because you have transferable skills into other industries
A lot of people have a very weak definition of faith I don't think the opposite of faith is doubt, it is certainty.
Every journey we read about in scripture or in our favorite movies or stories, the story is of no interest if the hero doesn't have any fear, anxiety, or uncertainty.
People hide behind faith and God a lot, not within Him, and there is a big distinction to me.
I think when we step out in faith and we have courageous steps, we are in abiding God and hide under the shelter of His wings, but that doesn't mean we stay where He is and that doesn't mean He wants us to stay where we are.
Key Points Discussed:
Mike's Career Pivot Story
The Pivot Course
How you can make a successful life transition/pivot
Sensing God's emerging purposes for you
Doing an inventory of your skills and talents
The importance for You being in a Mastermind, Coaching, and/or an Accountability group
Episode 100 Brand You podcast contest
Miracle or Epiphany Story
Sustainability and steadfastness of God and how He has been OK with questions.
Mike's Take-Away Wisdom that leads to action today:
Stop being over responsible for people and underworking them because the more you do this, the less you can actually love them.
Mike Recommends Resources
Codependent No More: How to Stop Controlling Others and Start Caring for Yourself by Melody Beattie
Connect with Mike Kim
Websites – MikeKim.com
Other Related Episodes You Might Like

Leave a Message for Paul or Ask Paul a Question
http://godzoneshow.com/contact/

Help by Rating and Reviewing The God Zone Show on iTunes

Link to GSZ on Stitcher for Android

   http://www.stitc