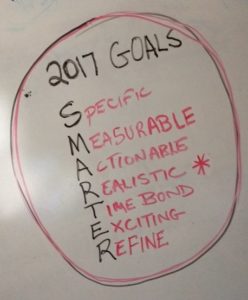 Paul discusses the 8 ways to greater success in 2017 by you establishing and employing Smarter Goals.  Specifically Paul unpacks the 1 one way for you to create a goal theme for 2017 and the 7 realities of Smarter goals.
  Click Message to Tweet: Paul discusses 8 Ways to Greater Success with Your 2017 Goals on The God Zone Show!
Sheila's Shofar – Today's Call-to-Action – Tip of the Day  
Today – Establish and Implement Smarter Goals – check it out – my call to action tip for the day.
8 Ways to Greater Success with Your 2017 Goals
Smart Goals came about in 1981 by George Doran in Mgt Review
Google Smart Goals >> many articles/images/worksheets
Smarter – popular but what I have discovered
Nothing magic about 8 – I could make it 10 or 15
8 ways – 1 the Goal Theme and 7 Smarter realities
Pray & Create a Goal Theme – Photo & Phrase
Examples of my current & past Themes:
2014 Reloaded and Ready to Relaunch
2015 Into Orbit
2016 Landed & Building a Base – web site & podcast launched
2017 Maintain & Expand Platform – speaking, coaching, & writing
Make goals SMARTER –
     Specific (5 max) God Sized for at least one / Impersonal?
Goal vs Milestones vs Tasks
Example: Getting healthier vs losing 20# vs joining a gym; going regularly
     Measurable & Meaningful
#'s or $ are measurements not the goals
     Actionable – tasks small – steps that help you get there
     Realistic – Unrealistically realistic or Supernaturally realistic
     Time Bound – deadlines
     Exciting –  Resonates w your passion
     Reinforce & Refine (Relevant 7 Readjust) – Pray; means scheduled reviewed/accountability/meetup.com – mentor – mastermind – coach
The God Zone Show 2017 Survey –  Please let us know about your interests and desires and the issues that give you pain and challenges so we, the GZS team, can best offer episodes, services, and materials for you in 2017.
Here is the link to take survey >> 2017 God Zone Show Survey
Resources Mentioned
LoveHard: Love Stories and Romantic Poems to Inspire by Joyce "J" Ruiz
Start with Why: How Great Leaders Inspire Everyone to Take Action by Simon Sinek
Other Related Episodes You Might Like

Leave a Message for Paul or Ask Paul a Question
http://godzoneshow.com/contact/

Help by Rating and Reviewing The God Zone Show on iTunes

Link to GSZ on Stitcher for Android

   http://www.stitc