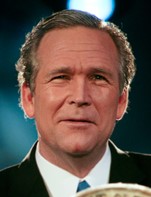 John C. Morgan is an author, inspirational speaker, and a world class performer.
Beginning in the early 2000's, John began what turned out to be an explosively fabulous career as a George W. Bush impersonator.
Paul and John discuss John's new book  War on Fear that help us all move ahead with our dreams and gain victory over fear and he does this from the trenches of his own personal experiences and Godly reflections.
  Click Message to Tweet: John Morgan discusses How Do You Wage War on Fear? on The God Zone Show!
Sheila's Shofar – Today's Call-to-Action – Tip of the Day  
Write down one fear you would like to remove from you life and then contemplate on that fear for a bit before listeninig to my conversation with John Morgan.
Listen to the conversation
Relect on what John and I discuss that might have helped you take a step to remove the fear your wrote down.
Share a bit of about your process in the comments below or on the God Zone Show Facebook page.
 The God Zone Show 2017 Quiz –  Please let us know about your interests and desires and the issues that give you pain and challenges so we, the GZS team, can best offer episodes, services, and materials for you in 2017.
Conversation with John C. Morgan
Amazing Snippets from John
 Meditate on these Guest Quotes to see the useful wisdom that might come from God's voice and resonate with your heart and be implemented today on your journey.
The secret there is follow God even if it's into the fire because if He wants you be somewhere, there's no safer place to be. Even if it appears scary, to go where God wants you is always the right decision, no question.
I finally got the message- okay, Lord I can trust you. I don't have to know what my next step is. All I have to know is:  you got this, you are in the middle of this, and you are going to see me through.
Unbelief itself had cost me dearly as a believer. I thought, how much more I could have been accomplished if I had simply believed that what the Bible says is true. What Jesus said about himself and what he said about his believers and our capacity to accomplish things in this world was simply true.
I am rising up an army, and entire Christianity that is also grabbing on to that life that is better, that is higher, that supernatural life that God has offered us and fighting off the enemy who uses fear, who uses these ridiculous thoughts, to keeps us from obtaining it.
Key Points Discussed:
Becoming George W. Bush
Fear & unbelief and saying "yes" to God – John's Story
War on Fear book
John 10:10
John's Comedy Club Story – God shows up
How you can succeed at Spiritual Warfare
John's new Trump impersonation
Take-Away Wisdom that leads to action today:
God really love us, the Bride of Christ, embrace this love daily.
.Mentioned
Below you will find links to resources that I think you will find valuable to take your work and life to the next level.   Some of the links are Affiliate Links which means that when you choose to make a purchase, you are providing support for the work of The God Zone Show as a commission will be earned. This commission comes at no additional cost to you. Thank you for your support.  pdj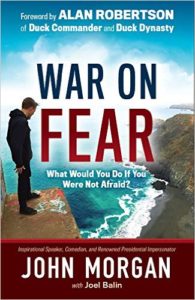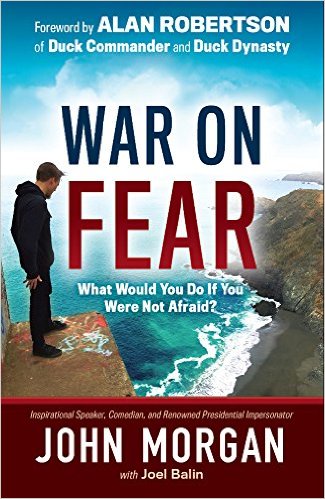 War on Fear: What Would You Do If You Were Not Afraid?  By John C Morgan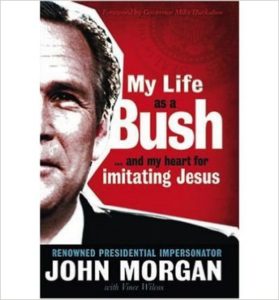 My Life as a Bush: … and my Heart fo Imitating Jesus
select Video
Recommended Resources
Facing Your Giants: God Still Does the Impossible  by Max Lucado
Connect with John C Morgan
Other Related Episodes You Might Like
Connect with Paul

Leave a Message for Paul or Ask Paul a Question
http://godzoneshow.com/contact/

Help by Rating and Reviewing The God Zone Show on iTunes

Link to GSZ on Stitcher for Android

   http://www.stitc