Taya Kyle is an internationally known author, speaker, media commentator, and family advocate.
Paul and Taya discuss her life as the widow of Navy Seal war hero Chris Kyle – known from the famous book and film American Sniper. Taya has given us her own heroic story in the encouraging book American Wife: A Memoir of Love, Service, Faith, and Renewal.
With Her passionate work as founder of the Chris Kyle Frog Foundation, as a national speaker and as a Fox News contributor, Taya brings to you a motivating message of service, Godly values, courage, healing, and renewal.
  Click Message to Tweet: Taya Kyle discusses American Wife on The God Zone Show!
Thanks to the new iTunes 5 * Star Rating & Reviews from
Younes Naciri  – Fearless Inventor Podcast  
Chris Luecke – Pubcast Worldwide
I would love to read you name and iTunes review on the show and if you have one, the name of your book, podcast, or website.  There are two ways to have this happen:
On your phone or iPad
Go to iTunes using the iTunes podcast app,
Search for The God Zone show,
Click on the Rating and Reviews bar,
Log into iTunes, and then
Write a review and leave a rating by stars
On your computer
Launch your iTunes App
Click on the Rating and Reviews bar,
Write a review and leave a rating by stars
Sheila's Shofar – Today's Call-to-Action – Tip of the Day  
Today's Engagement Question –
What helps you hear from God?
Enter you answer below in the Comments section or go to the Contact Page
Conversation with Taya Kyle
Amazing Snippets of Wisdom from Taya
Meditate on these Guest Quotes to see the useful wisdom that might come from God's voice and resonate with your heart and be implemented today on your journey.
I felt this overwhelming message that God was telling me you are not meant to be alone.
I remember being very vulnerable and humbling myself and saying to God, "I hear you and it's not what I pictured, it's not what I wanted, but I am ready to listen and I want to open my heart up to whatever you have for me."
I did not know it the minute I met him (Chris Kyle), but what drew me to him was this idealistic, unabashed, unashamed, honest, and pure heart thing come through so strongly.
Above all the things and all the ways, I could not have dreamed up the answer to my prayer having come that way, and for me that is just a perfect illustration how amazing God is and how you just open the door and ask and wait and don't anticipate you're going to know how this is going to happen.
That is what I encourage to people to do. You don't have to know everything you don't have to go to Bible studies and all that to get started. Just pray, and start talking, and the rest will come.
We don't get the choice of how we are challenged. Sometimes it's God's reasoning and sometimes it's man's free will and evil that sidetracks us.  Either way, we don't get to choose.
Key Points Discussed:
Taya's Journey to and with God
Asking and Hearing God
American Wife book and the 7 seasons
Chris' Godly character
Chris Kyle Frog Foundation
Epiphany or Miracle Story  
Taya tells a miraculous and touching story of an event that occurred on the anniversary of Chris' birthday in 2016. In a remote section of a property she found a handwritten note she had written on Chris' ticket for an Alaska trip she and Chris had taken in 2012.
Take-Away Wisdom that leads to action today:  
Pray Daily – Talk to God, Ask Questions, Express Gratefulness, Ask for Strength and Peace, then
Listen to His response, then
Take Action on what He has revealed to you
Mentioned
Below you will find links to resources that I think you will find valuable to take your work and life to the next level.   Some of the links are Affiliate Links which means that when you choose to make a purchase, you are providing support for the work of The God Zone Show as a commission will be earned. This commission comes at no additional cost to you. Thank you for your support.  pdj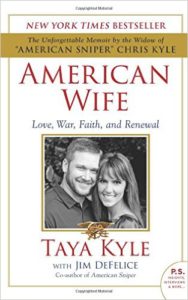 American Wife: A Memoir of Love, Service, Faith, and Renewal by Taya Kyle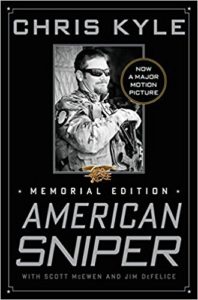 American Sniper: Memorial Edition by Chris Kyle
Taya Recommended Resources  
Daughters of Sarah by Genevieve White
Sons of Abraham by Walter F White
Captivating: Unveiling the Mystery of a Woman's Soul  by John and Stasi Eldredge
Wild at Heart: Discovering the Secret of a Man's Soul by John Eldredge
Connect with Taya Kyle
Other Related Episodes You Might Like
Connect with Paul

Leave a Message for Paul or Ask Paul a Question
http://godzoneshow.com/contact/

Help by Rating and Reviewing The God Zone Show on iTunes

Link to GSZ on Stitcher for Android

   http://www.stitc