Casey Sabella is a pastor, author, podcast host, keynote speaker, and leadership coach.
Paul and Casey discuss Casey's 40 years in ministry and survival though some bad church experiences and how it has brought valuable dimension to his work as lead pastor of Motion church in Waterbury CT where Casey trains and inspires people to connect with God, Grow Together, and then Serve their Community.
Casey's books, resources, and Minister's Toolbox podcast delivers content to help you be a healthy leader and to provide you tools to succeed in your God inspired callings and so that you can help take your church from bad to good to great!
  Click Message to Tweet: Casey Sabella discusses Your Church from Bad to Good to Great  on The God Zone Show!
Thanks for the new iTunes 5 * Star Rating & Reviews from
I would love to read you name and posdcat or website name on the show and if you have one, the name of your book, podcast, or website.  There are two ways to have this happen:
On your phone or iPad
Go to iTunes using the iTunes podcast app,
Search for The God Zone show,
Click on the Rating and Reviews bar,
Log into iTunes, and then
Write a review and leave a rating by stars
On your computer
Launch your iTunes App
Click on the Rating and Reviews bar,
Write a review and leave a rating by stars
Sheila's Shofar – Today's Call-to-Action – Tip of the Day  
Today's Engagement Question –
Engagement Questions – 1) What one question would you like your church leaders to ask you about?   2) What one question should you be asking your client or members about?
Enter you answer below in the Comments section or go to the Contact Page
Conversation with Casey Sebella
Amazing Snippets of Wisdom from Casey
Meditate on these Guest Quotes to see the useful wisdom that might come from God's voice and resonate with your heart and be implemented today on your journey.
My passion is to not see people disconnect from the church because things have gone wrong.
So I think, in general, the church for the last several decades maybe has turned inward in looking at organization, in looking at programs, in looking at style and all that sort of thing and these have their place but they have sort of lost their way of trying to connect people with their mission in life.
Key Points Discussed:
The backstory of Casey's coming to faith and passion to help people grow their faith
The Minister's Toolbox podcast
Causes people are leaving churches
Need to frequently ask church and clients members for feedback
What do when church your experience turns bad.
Epiphany or Miracle Story   
At 17 years of age Casey asks Christ to reveal Himself
Take-Away Wisdom that leads to action today:  
Ask yourself and God "Why is the world going to be different because I am here?" Seek God's help to hear and understand the answer and take action.
Mentioned
Below you will find links to resources that I think you will find valuable to take your work and life to the next level.   Some of the links are Affiliate Links which means that when you choose to make a purchase, you are providing support for the work of The God Zone Show as a commission will be earned. This commission comes at no additional cost to you. Thank you for your support.  pdj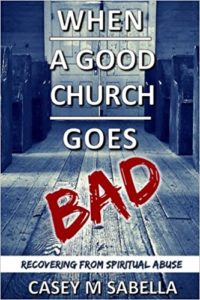 When a Good Church Goes Bad: Recovering From Spiritual Abuse by Casey Sabella
Titanic Warning by Casey Sabella
Ask by Ryan Levesque
The Slight Edge: Turning Simple Disciplines into Massive Success and Happiness by Jeff Olsen
Recommended Resources  
In His Steps by Charles M. Sheldon
Futureville: Discovering Your Purpose Today by Reimagining Tomorrow by Skye Jethani
Connect with Casey Sabella
Other Related Episodes You Might Like
Connect with Paul

Leave a Message for Paul or Ask Paul a Question
http://godzoneshow.com/contact/

Help by Rating and Reviewing The God Zone Show on iTunes

Link to GSZ on Stitcher for Android

   http://www.stitc