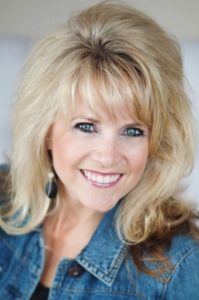 Susie Larson is radio show host, prolific bestselling author, and keynote speaker.
Paul and Susie discuss her touching journey through sickness and challenge leading to her work as the host of Live with Promise daily radio show and podcast and author of some 15 books including Your Powerful Prayers and Your Beautiful Purpose.
Susie's passion is to help you receive God's love and empower you to journey in freedom as you live out your convictions no matter what the difficulties as you deepen your trust in Jesus Christ.
  Click Message to Tweet: Susie Larson discusses Find Your Beautiful Purpose on The God Zone Show!
Thanks for the new iTunes 5 * Star Rating & Reviews from
Ashley James of the Learn True Health podcast
Douglas Salamone of the Mind Drippings podcast
Jon Fuller of the Are You Real podcast
I would love to read you name and posdcat or website name on the show and if you have one, the name of your book, podcast, or website.  There are two ways to have this happen:
On your phone or iPad
Go to iTunes using the iTunes podcast app,
Search for The God Zone show,
Click on the Rating and Reviews bar,
Log into iTunes, and then
Write a review and leave a rating by stars
On your computer
Launch your iTunes App
Click on the Rating and Reviews bar,
Write a review and leave a rating by stars
Sheila's Shofar – Today's Call-to-Action – Tip of the Day  
Listen to Telling the Miraculous – Hear Paul's miracle story in Episode # 008
Enter you answer below in the Comments section or go to the Contact Page
Conversation with Susie Larson
Amazing Snippets of Wisdom from Susie
Meditate on these Guest Quotes to see the useful wisdom that might come from God's voice and resonate with your heart and be implemented today on your journey.
We can't impart what we don't possess, and I think so often Christians strive so hard and jump so high and worked so hard with a lot of "ought to's" and "should do's" and I think they become "get to's when you should live first out of love of God.
When you don't know who you are in Christ, God bestows gifts on each one of us but we miss use them to prove something that he has already proven.
If God has given you something to say and that is the next thing he wants you to do, my advice would be to get to a writer's conference because that is where you can network and you can learn some of the tricks of the trade and steward the call.
Even among Christians where we're sloppy with our "yes", we are just throwing it around like yes, yes, yes, yes, yes. Every time we say "yes," we say "no," but what I learned when I really studied that is it's not only not sustainable, it physically wears you out. It makes you spiritually very vulnerable.
Key Points Discussed:
Susie's story of overcoming sickness that lead to opportunities and a life mission of helping others
Finding Your Beautiful Purpose
Protecting Your Scared Yes
Hearing God and making declarations
Epiphany or Miracle Story   
Susie's son Jordan miraculous instantaneous healing from a serious football injury
Take-Away Wisdom that leads to action today:  
Let peace rule and reign and if you don't have peace, retrace your steps because it is always a lie that steals the piece. You're either believing a lie or reading between the lines and are worried about a fear. Guard your heart because it's a treasure and let the peace rule and reign there. That's the way you will have discernment and discern clearly.
Mentioned
Below you will find links to resources that I think you will find valuable to take your work and life to the next level.   Some of the links are Affiliate Links which means that when you choose to make a purchase, you are providing support for the work of The God Zone Show as a commission will be earned. This commission comes at no additional cost to you. Thank you for your support.  pdj
Live with Promise daily radio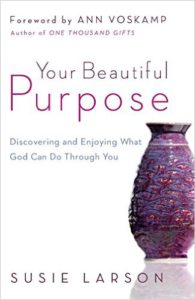 Your Beautiful Purpose: Discovering and Enjoying What God Can Do Through You by Susie Larson
Your Powerful Prayers: Reaching the Heart of God with a Bold and Humble Faith  by Susie Larson
Your Sacred Yes: Trading Life-Draining Obligation for Freedom, Passion, and Joy  by Susie Larson
 Recommended Resources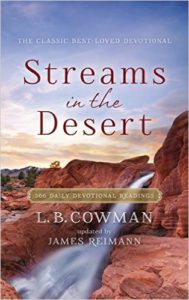 Streams in the Desert: 366 Daily Devotional Readings by L.B. Cowman
Connect with Susie  Larson
Other Related Episodes You Might Like
Connect with Paul

Leave a Message for Paul or Ask Paul a Question
http://godzoneshow.com/contact/

Help by Rating and Reviewing The God Zone Show on iTunes

Link to GSZ on Stitcher for Android

   http://www.stitc