Phil Potts is an author, podcaster, marriage coach and men's ministry director.
Paul and Phil discuss the great content in his book Habits for Heroic Husbands and on his The Heroic Husband Show podcast and through his work in Renegade Gentlemen.. Men's Ministry
Phil's passion is to help you break through frustration, establish healthy relationship habits, and rocket your marriage to a 10 out of 10 rating and beyond.
  Click Message to Tweet: Phil Potts discusses How to Take Your Marriage to a 10 on The God Zone Show!
Thanks for the new iTunes 5 * Star Rating & Reviews from 
Chanelle Neilson of the Moms Who Know podcast
Nick Pavlidis of the Confessions of a Terrible Husband podcast
I would love to read you name and posdcat or website name on the show and if you have one, the name of your book, podcast, or website.  There are two ways to have this happen:
On your phone or iPad
Go to iTunes using the iTunes podcast app,
Search for The God Zone show,
Click on the Rating and Reviews bar,
Log into iTunes, and then
Write a review and leave a rating by stars
On your computer
Launch your iTunes App
Click on the Rating and Reviews bar,
Write a review and leave a rating by stars
Sheila's Shofar – Today's Call-to-Action – Tip of the Day  
To make your marriage better, take advantge of the FREE video Series and 2 gifts offered my guest today.
Enter you answer below in the Comments section or go to the Contact Page
Conversation with Phil Potts
Amazing Snippets of Wisdom from Phil 
Meditate on these Guest Quotes to see the useful wisdom that might come from God's voice and resonate with your heart and be implemented today on your journey
I think that if we work inside our greatest talents that God has given us and our greatest passion that he has given us, that we will have the greatest joy and fulfillment.
A lot of times I think I should be able to determine that for whatever — a client, my wife, or a congregation, but I'm not the one who should determine that. I need to ask how I can meet you where you are and most people are willing to tell you if you ask.
Key Points Discussed
Phil's marriage rating that lead to his passion to help men
Phil's career pivot – a lesson for us all
Ask for a rating
Heroic men's habits
"The Buddy System" – accountability methods
Untapped – Free video series
12 part video upcoming course
Epiphany or Miracle Story   
Chick Filet story that lead to marriage and career pivot
Take-Away Wisdom that leads to action today:  
Ask your spouse to rate you on a 1 to 10 scale.
Mentioned
Below you will find links to resources that I think you will find valuable to take your work and life to the next level.   Some of the links are Affiliate Links which means that when you choose to make a purchase, you are providing support for the work of The God Zone Show as a commission will be earned. This commission comes at no additional cost to you. Thank you for your support.  pdj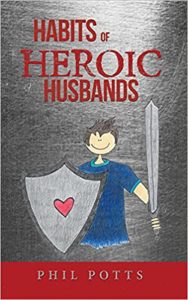 Habits of Heroic Husbands by Phil Potts
No More Dreaded Mondays: Ignite Your Passion – and Other Revolutionary Ways to Discover Your True Calling at Work by Dan Miller
48 Day to the Work You Love by Dan Miller
Ask by Ryan Levesque
Free Resources – Untapped video series  + 2 Free gifts   Renagadegentleman.com/godzone
Recommended Resources  
Love & War: Find Your Way to Something Beautiful in Your Marriage by John and Stasi Eldredge
Connect with Phil Potts
Other Related Episodes You Might Like
Connect with Paul

Leave a Message for Paul or Ask Paul a Question
http://godzoneshow.com/contact/

Help by Rating and Reviewing The God Zone Show on iTunes

Link to GSZ on Stitcher for Android

   http://www.stitc