Rhonda Geddis is an author, top level corporate executive consultant and business coach, personal mentor, keynote speaker, a former college Dean.
Rhonda is often described as a "Pathfinder." Paul and Rhonda discuss hearing God and her passionate work which can be experienced in her book Moving from Micromanagement to Masterful Leadership and the use of her Align program.
This will help you transition your team, your career, indeed even your life, to the next level and become the Godly leader that you would want to follow.

. 
  Click Message to Tweet:  Rhonda Geddis discusses Powerful Advice from a God Inspired Pathfinder on The God Zone Show!
5* R&R's on iTunes   
Thanks for the new iTunes 5 * Star Rating & Reviews from
Cindra Kamphoff of the High Performance Mindset podcast
Tracy Seekins of the Life Is podcast
Sheila's Shofar – Today's Call to Action – Tip of the Day
Meditate on Rhonda Geddis' 11 snippets.
Conversation with Rhonda Geddis
Amazing Snippets of Wisdom from Rhonda:
Meditate on these Guest Quotes to see the useful wisdom that might come from God's voice and resonate with your heart and be implemented today on your journey.
When you can impact someone's life like that in a very positive way and they can find their path, I feel my job's done, God's job's done, now it is up to the individual.
The first message I tell everybody whether an individual or organization is from Scripture and that is "without a vision, people will perish" (Proverbs 29:18).
I start the conversation by asking people, "what do you think you have been called to do?"
What is the voice inside telling you in terms of your purpose, in terms of your personal vision, in terms of your aspirations, in terms of how you want to impact the world?
If there were no barriers, if there were no boxes, if there were no lines drawn and you could do whatever you want, knowing you have been called for a purpose, what would it look like? And don't allow your past child to experiences, don't allow corporate experiences, and don't allow any of that to cloud the fact that you have a clean slate.
It is my job to even egg them on and tell them think bigger. What does that look like? What's the message you could share with people? What would your life to look like? How would it impact your family?
A leader is a person who strategically is endowed with the ability, with the power, and the responsibility to create vision, to cascade that vision, to help those with in their organization to fulfill the vision, and then to start all over as that vision is refined and that organization is moving forward.
A manager is more of a doer of the vision. It's their responsibility on more of a tactical level to the vision and break it down for how it works within the environment or maybe their ministry and to keep that piece of the organization moving forward.
I think people sometimes they limit the authority of God. They limit the ability of God because they see themselves as being limited so they don't really view God as having all power.
We have to put ourselves aside and say to God and request of God "I know it's bigger than I am, it's bigger then I see, so if you have more for me, I am ready to receive more.
Don't try to control people, boost them, encourage them, mentor them, coach them, encourage them to bring the very best of themselves to your team, and your team will soar.
Key Points Discussed:
Hearing God
A.S.K.
Moving from Micromanagement to Masterful Leadership
Prophetic Leadership
Difference between a Leader & a Manager
The Align Coaching Tool
Epiphany or Miracle Story:   
Rhonda's epiphany in discovering that God has a master plan for her and that he is not looking for her help, he is looking for her obedience.
Rhonda's Take-Away Wisdom that leads to action today:  
Shut out the noise
Move out the negativity
Ask God questions (A.S.K.)
Listen for the voice of God
Look for the path revealed
(Paul – I going to call this Going SMALL to Get Big)
Mentioned
Below you will find links to resources that I think you will find valuable to take your work and life to the next level.   Some of the links are Affiliate Links which means that when you choose to make a purchase, you are providing support for the work of The God Zone Show as a commission will be earned. This commission comes at no additional cost to you. Thank you for your support.  pdj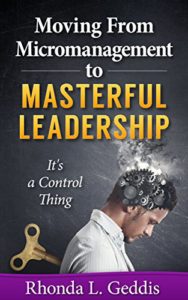 Moving from Micromanagement to Masterful Leadership by Rhonda Geddis
Recommended Resources  
God Chasers: My Soul Follows Hard After Thee by Tommy Tenny

Connect with Rhonda Geddis
Other Related Episodes You Might Like
http://godzoneshow.com/contact/
Help by Rating and Reviewing The God Zone Show on iTunes

Link to GSZ on Stitcher for Android

   http://www.stitc