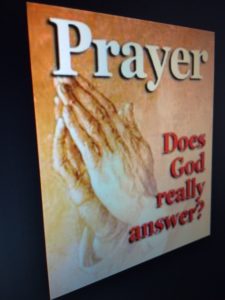 Paul answers Jocelyn's question and gives us resources that can help us know what to expect from our requests and discussions with God. Use the Ask Paul page or the Contact page to ask or leave a comment to be played and answered on a Q&A episode.
Sheila's Shofar – Today's Call to Action – Tip of the Day
Today, I've combined the Tip of the Day, Call to Action segment with our Q&A segment through an interview with Sheila to deliver wisdom that leads to action.
Question from Jocelyn Newman
Does God answer every prayer?
The Answer
Key Points Discussed:
If you asked this question on the Internet, you would find
242 books on Amazon
32,000 videos on You Tube
1,320,000 entries on Google
From the Bible
Philippians 4:6   Do not be anxious about anything, but in every situation, by prayer and petition, with thanksgiving, present your requests to God.
Ephesians 6:18   Pray in the Spirit on all occasions with all kinds of prayers and requests. With this in mind, be alert and always keep on praying for all the Lord's people.
My tip and Take Way –
God's answer will be yes, or no, or something else and you need to be alert and realize that the answer can come to you through various amazing ways – an event happening, something transforming right before your senses, someone mentioning something, in a dream, in some miraculous, indeed in supernatural way.
So I think the big question is not – does God answer every prayer, but how many answers are you and I missing.  Realize the answer may not be what you wanted but the answer that's out there, regardless of whether you want it or not, has a blessing in it for you to discover a diamond which might even be hidden in the rough.   So look for that, be alert. He is answering you.
Links to Resources Mentioned in this Episode  (Click on title to go to resource) 
Bill Johnson's video on Prayer

Special Free Book & Video Offer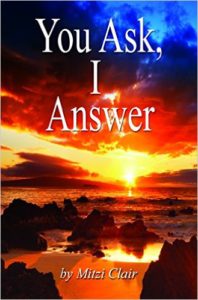 On Monday in Episode #017 you can join me in my interview with the author Mitzi Clair and her book You Ask, I Answer.  A great book which journals her discussion with God and gives you great examples about talking to God. Mitzi has graciously given to me about have a half dozen of her You Ask, I Answer books to give away to God Zone Show listeners.
So here is the Special Offer – Go to the Ask Paul page or the Contact page and either send me a voice message which you can easily record and then I can play it on the show or else you can send me a written message you write on the Contact page which also I could use on the show, if you will do that I will send you Mitzi's book, You Ask, I Answer AND as a bonus I will send you a new video that I'm working on, its called – How to Hear the Voice of God which is my step-by-step suggestions to you on how you can more effectively hear the voice of God in your life and consequently receive amazing wisdom.
What question would you like to ask?  What comment would you like to make? …Now, you will get the book and the How to Hear the Voice of God video but when I run out of the six books that I have, I'll still send you a link to the video that will here be on a private page and only accessible to you who send me a question or comment.
Now I'll be making this offer in Episode #017 when I interview Mitzi and also in Episode #018. So go ahead and get ahead of the curve and don't miss out on getting the book, today please leave me a comment or question by using the Ask Paul or Contact page.
Other Related Episodes You Might Like

Leave a Message for Paul or Ask Paul a Question
http://godzoneshow.com/contact/
 Help by Rating and Reviewing The God Zone Show –