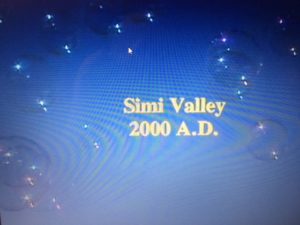 To view this video, click on title below and download video file and then play it.
This was our 2nd Pride outreach in Simi.  The first was in 1998 at the same place – large grassy area in front of what is now BOA complex corner of LA Ave. and Tapo Canyon Rd.
Several other churches demonstrated outside with tracts. We choose to have a booth and just love on those inside. The pride president loved us even though he got push back from some of his leadership. Likewise, Ken Craft supported our outreach in the face of some pushback from some Sonrise elders.
We were often asked by people coming to the booth, "Do you affirm our lifestyle?"  I would say, "No, but I love you and so does God."
In 2000, at our balloon rainbow booth, we handed out flowers, God Loves You stickers, did face painting, spread bubbles, played party music.  We were constantly surrounded with interested people.  We had a big box of Bibles sitting on the counter from which people could freely take one – they were all taken.
I know of at least two people we interacted with there that we discipled and who eventually came out of that life style.
Years later, when the same Pride president was planning a Pride Rodeo in Newbury Park, he asked us to join in again and we did.  Jon Looney brought in his young adult group to help.  Amazing encounters again happened.